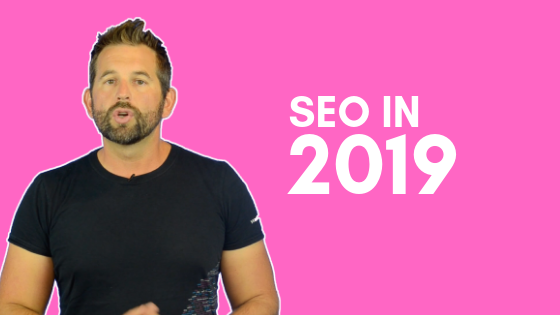 It's 2019 and search ranking is just as important as ever. Getting your business found when people who are looking for your products and services type a keyword in to Google is a bonified way to drive people to your business but some of the rules of traditional SEO have changed. In this article I'm going to share with you some of those differences and how you can leverage them to getting better ranking in 2019.
Although Google has rolled out many updates, under many code names the primary rules of SEO have remained the same. Where you rank is still going to be largely dependent on the link authority and relativity of the sites linking to you. Getting high quality links that aren't spammy is a tough nut to crack. Everyone says to just keep creating great content but at some point you're going to have to get that great content in front of the right set of eye balls if it's to generate a link to your site. Truthfully, that's probably not the most productive activity a business can be doing at any given moment. After all if you're a real business you have customers you need to take care of, jobs you need to complete, and bills to be paid.
Some of the things you can do to help a little are make sure you're including a link back to your website in your social media profiles. For example if you have a Facebook, Instagram, or Twitter page you'll want to include a link back to your site. It won't give you the link juice to jump to the top of Google for highly competitive keywords but it will get you included in the index and provide some context to the types of products and services you provided.
The biggest changes to Google in 2019, and the areas where there's the most opportunity are in mobile and video. Google realized several years ago people are not sitting in front of a desktop computer to perform their searches. They're on their phones. Google began changing it's algorithm to favor websites that are optimized for mobile. Although I have to say through my own research here at WebStarts, this doesn't affect websites as much as you might think. What I have noticed is that Google is much more concerned about delivering results based on your location. This only makes sense. Of all things you can provide Google to enhance the context of your search location is fundamental.
You can take advantage of Google's emphasis on location by creating plenty of local listing with links back to your website. Probably the most effective local listing you can create is Google Places. Providing your address, phone number, business hours and keeping them up to date will defintiely be something that can separate you from competitors in the local space.
In addition to creating local listings providing context to your business locations within your content can be helpful as well. Many people include a reference to their location, or a location where they're looking for a particular business in their search. For example, if you're looking for an event venue in Orlando you might search for "event venue orlando". If you've provided Google plenty of context that you're located in Orlando you'll be more likely to show up.
The other major area of opportunity is video. Again, with everyone searching on a mobile phone it can be much easier to click on a video than to sort through a variety of articles on a particular subject. For these reasons Google appears to be displaying videos for more of their search results. And videos appear to be getting a premium position, often times showing up above any of the text results. All of this makes good sense when you think about Google owning Youtube and Youtube being the second most likely places for someone to conduct a search.
You can take advantage of Google showing more videos amongst it's search results by creating a Youtube channel and filling it with quality content within your niche. In my own research I've found there's still plenty of opportunity to create video content for a variety of subjects. When you're creating your videos be sure to use common sense title that feature the keywords and phrases someone is likely to type into Google. Be aware of competitors in your space, if there's a lot of competition for a particular search, it's going to be tough to show up in Google's search results. Include a link back to your website in each one of your videos and try to make your videos at least a few minutes long. Google knows the longer someone watches a Youtube video the more ads they can show, so they've figured out over the years the shortest, most direct videos don't afford them the opportunity to display as many ads.
Another thing to keep in mind about Google's constant updates is that they're often designed to simply filter out spam. With each tweak of the algorithm another method of spamming the search engine rears it's head. The updates are often designed to address those holes. The best thing you can do is provide original, quality content to viewers on the web. It won't make you an overnight sensation but over time enough quality content can at least provide your site with a little SEO juice. Again, this may not always be the best business activity but it's something that if done regularly can pay off.