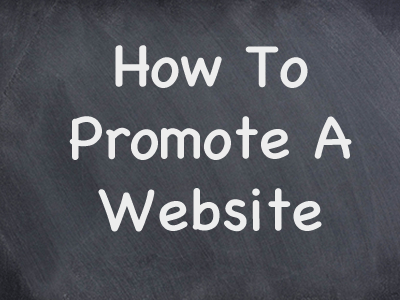 In this article I will share with you a few tips on how to promote a website. You can make the most beautiful and informative website in the world but unless you promote it chances are it will never get found on the web. Here are a few simple ways how to promote a website.
1. Traditional Marketing
Include your website domain name on all your traditional print materials. This includes your business cards, brochures, and anything else you might distribute about your business. This may seem obvious but it's frequently overlooked by would be marketers. If you're doing print advertising or traditional media advertising like radio or TV you'll want o include it there as well.
2. Social Media
If you're online you probably have a Facebook account. With nearly a billion people using Facebook it's hard not to recognize them as a force when it comes to how to promote a website. Be sure to share updates to your website with your friends. Be careful to take the time and make your content fun and interesting. Your friends can easily hide you from their feed with a click of a button if they think you're spam.
3. YouTube
If you YouTube was a stand alone search engine it would account for around 15% of all search queries. There's a lot of marketing opportunity on YouTube. And because it's more difficult to make videos than it is to write articles the work you put into promoting your website on YouTube will go a lot further than other places. Be sure to include a detailed description of your video loaded with keywords people might use to find your website as well as a link to your site when you make a post.
4. Google
Everyone knows if you get a top ranking on Google you're going to get a lot of visitors to your website. But getting on the top of Google can be complex and time consuming. Still there are basic things you can do to ensure you'll get at least some traffic from Google. Basic search engine optimization always starts with keyword research. Find the keywords people use to look for your products and services online and then include them in your page title, description, and content. Then look for other websites that are willing to link to yours.
5. Email
The most efficient way to promote a website is through email. Sending emails can cost you little to nothing and have great impact when they get into a person's inbox. The trick is not to be spammy and ensure you have an existing relationship with everyone on your email list. If someone detects you're sending them spam it can ruin your chances of getting to anyone's inbox. If you're able to get good deliverability a well written email can generate great returns.
Using these few proven methods to promote your website should help get you started. The key here is to follow through. These methods do work but they cannot be overlooked or forgotten. Stay tuned to future posts as I explain each of these methods and more in great detail.