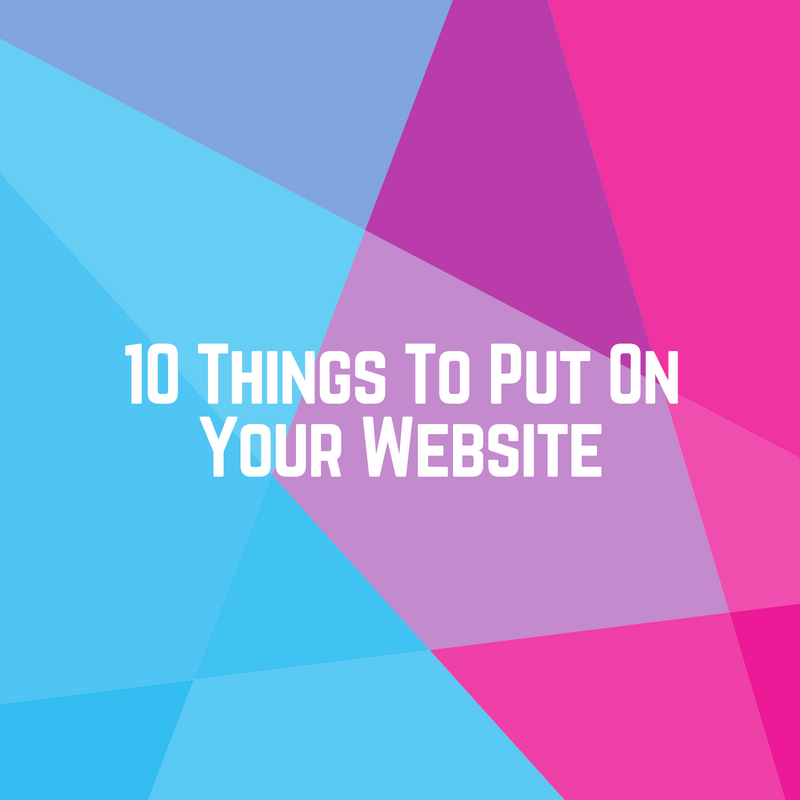 Here's a list of things you should include on your website.
1. A logo
Yes branding is still a thing and when you include a logo on your site it helps your brand be remembered. That being said the logo shouldn't take up a prominent piece of real estate and should consume only a smart part of real estate on your page. A lot of people make the mistake of putting too much emphasis on their logo. When people come to your website they're not looking for a logo, they're looking for information about a product or service. So emphasis should be reserved for things like your headline.
I like to put mine in the top left hand corner so people always know where to find it. I also like it to double as a way to navigate back to the home page.
2. A photo that has to do with your product, service, or information
People aren't likely to read all the content of your pages. They are likely to glance at your page and decide whether they're in the right place. Whatever image you use should convey what you're about.
Be careful about the images you use on your website. Certain images may seem like they make sense but could undermine the way people perceive your website. For example, lets say you have a candle website and so you put a Christmas candle on your home page. Someone might come to the page and quickly dismiss the content assuming it's out of date if it's not around the holidays.
3. Contact information
If you're trying to win customers having an easy way to contact you is critical. Your phone number should be easy to find, in fact, if it's a big part of your sales process it should be on every page. You can use forms to gather contact data as well, which I advise opposed to publishing your email adress on the web which could lead to getting spammed.
It's also a good idea to include your physical address. Often times people will go to your website just to get basic information like your phone number or address. Don't neglect to provide this if it's relevant to your business. A physical address will also build your credibility since skeptics can look up the address on Google Maps to verify your existence.
4. Links to other places you can be found online
If you're maintaining Facebook, Twitter, and Instagram pages you should link to them and vice versa. Sometimes people won't be willing to submit their email address on your website but they might be willing to follow you on social media.
A good place to link to social media is in the footer. It's not typically good practice to navigate people away from your website so placing them at the bottom of the page reduces the chance someone will venture off onto something like Facebook, get caught up in their feed and never retrun. Another good rule of thumb that applies to any link to an external website is to launch it in a new tab or window. That way when people navigate away from your website it will still be open in browser tab and easy to find later.
5. Your story
Almost every website has an about us section. That section is chance for you to share a little bit about yourself. Audiences want to know, like, and trust you. Sharing a short story about how you got started or what inspired you to get into your business is a great opportunity to do that.
6. Endorsements
If you have any endorsements that help your credibility especially if they're from well known companies or institutions. Be sure to include logos when permitted. People tend to feel more confident in pages that display recognizeable logos.
7. Testimonials
Happy customers who are willing to share a review or tidbit about their exprience are invalauable. They tell your audience you have customers and you take care of them.
8. Features and benefits
You should make a list of features you offer along with their benefits. Those should then be bullet pointed on your website.
9. Sensible navigation
It may seem super obvious but you should be providing a way for site visitors to navigate between the pages of your website and those links should be in the same place on every page.
10. FAQs
A list of common questions along with the answers is a fundamental way to leverage your website. This list of Frequently Asked Questions will save you time and provide helpful content for your website.